Customer Satisfaction
By conducting business from the perspective of our customers, Geomatec aims to provide products and services that will meet their satisfaction.
Geomatec's long years of experience with thin film and coatings technology enables us to speedily provide high quality products to our customers.
Efforts to Improve Customer Satisfaction
By providing products and services that satisfy our customers, as well as by engaging in communication with them, Geomatec's CS Improvement Policy aims to increase customer satisfaction overall.
CS Improvement Policy
1.

Geomatec provides safe, reliable products and services.

2.

Geomatec will listen sincerely to the needs and concerns of customers and reply in a speedy and precise manner.

3.

Geomatec will always make the customer's voice a priority and increase customer satisfaction by pursuing product development and improvement.

4.

Geomatec will provide customers with appropriate information on our products, etc.

5.

Geomatec will protect customers' personal information.
Efforts to provide safe, high quality products
To continue providing customers with safe, high quality products, Geomatec began pursuing acquisition of the "ISO9001" international certificate for quality management systems in December 1999 and in December 2011, all companies in the group were ISO9001 certified.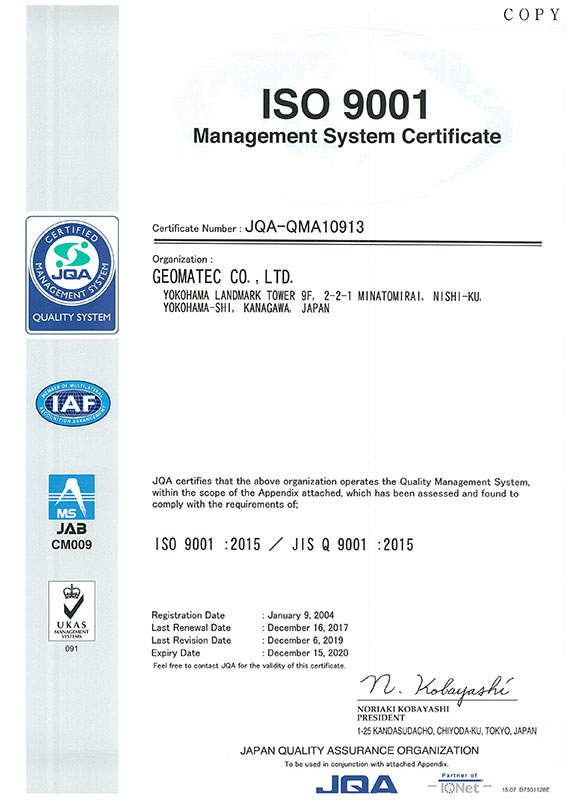 1.

Quality Management Policy

To pursue effective QMS, plot continual improvement, and provide customer satisfaction in our role as a coating manufacturer, we have defined principles for quality and behavior, enabling us to provide products and proposals that meet customer requirements.

2.

Quality Standards

To achieve customer satisfaction and meet customer needs, Geomatec will provide reliable products based on "superior QCD".

3.

Quality Management Efforts

The following quality management efforts are actively conducted in each area where we do business.

As a leader in vacuum coating, all employees of Geomatetc understand the need for customer satisfaction.
That means not only complying with legal requirements, but also appropriately understanding the market and customer needs. As such, we conduct continual improvement of our manufacturing plans and designs, based on the principle of quality improvement.
Through daily efforts to achieve improvement by all our employees, we can accomplish sustained quality growth.
When a product defect is discovered, immediate action is taken to discover the cause and implement fundamental improvements to prevent re-occurrence.
Quality management goals and objectives are checked via management review and continual QMS improvement is planned.
In order to provide reliable products to our customers, all employees receive thorough education in these matters.
Confidential Information Protection Policy
At Geomatec, all business for which we receive a commission are strictly managed to ensure that confidential information learned during operations is protected from leakage.
In addition, we will also comply with requests for a formal confidentiality agreement, so please feel free to ask.
How Geomatec Handles Confidential Information
1.

With regard to handling of personal information, each division assigns staff members who will be responsible, defines the scope of their work, and provides the proper permissions. Employees who have not been given permission to handle confidential information will not do so, nor will such information be used outside of the permitted range.

2.

The assignation and definition of scope for those who will handle confidential information is set by the chief of the department who receives the information (i.e. the supervisor of the department that will conduct operations using the information).

3.

When confidential information is managed in a database, the database manager and system development team will strictly monitor access rights and ensure that those without rights cannot access the relevant data.

4.

The responsibility for correcting problems or responding to requests regarding confidential information falls with the supervisor of the department that receives the information.

5.

With regard to handling of information internally, requests and proposals for improvement are collected in each department, then discussed with with the management and system development teams.

6.

If an incident occurs with regard to internal handling of confidential information, an audit will be conducted by the management division and necessary measures will be explored.

7.

To further prevent information leaks and maintain security, other emergency measures may be implemented that are not limited to the above.
Support Structure
R&D Center
In addition to pursuing core development based on information received from the sales division, The R&D Center joins our sales staff to participate in meetings with customers, gaining ideas for new products and suggestions to improve existing items. After discussions between the manufacturing and technology divisions, the process moves to volume production of prototypes and the technology staff give support, as necessary, to implement improvements in coating materials, methods, and equipment.
Technology Division
The technology division works to elevate and maintain quality in the manufacturing division's production, and develops improvements to processes, machines and tools towards greater productivity. When a defect occurs in quality, equipment, or tools, solutions will be discussed with the manufacturing division, sales division, customers, etc.
To maintain its ISO certification, Geomatec also continually searches for and evaluates environmentally friendly manufacturing procedures, equipment and substances.
Manufacturing Division
The manufacturing division possesses batch coating equipment for scales ranging small to large, along with inline coating equipment. These machines give them the flexibility to handle every step of the process from prototype to mass production. As indicated by our ISO quality certification, the manufacturing division operates under a strict system of quality management and maintains a database with a wide variety of information.
Lastly, the manufacturing division analyzes coating information and uses the results to predict future defects and how they should be handled. Stopping trouble in its infancy is one of the division's most important tasks.
Kannari Factory
The Kannari Factory follows all matters involving vacuum coating, focusing mainly on substrates for FPD and touch panels. While maintaining links with the sales division and other factories, Kannari utilizes a wide variety of coating equipment to effectively manage the process from prototype to mass production.
Ako Factory
The Ako Factory in Hyogo Prefecture handles mass production of substrates for FPD and touch panels. The batch coating equipment and inline coating equipment found here can be customized to meet the needs of our customers, ensuring high production efficiency and quality. Our thin-film products and solutions made from our top of the line coating equipment and manufacturing line have received high praise from customers.