CUSTOMER REPORT 02
Transparent Heater
for LiDAR Outer Cover
A wide range of thin film solutions that contribute to the evolution of sensing devices
Pioneer Smart Sensing Innovations Corporation
Devices and systems where our technology is used
3D LiDAR : 1st Model (Short Range) / 1st Model (Medium Range)
Issue and background
In order to achieve sufficient performance from LiDAR sensing technology, the outer cover needs to have heater, water repulsion and anti-reflection components.
Solution method
Consistently provide thin-film technology with all-encompassing designs that repel water and have an anti-reflection component in addition to featuring a highly durable heater that meets aircraft standards.
Mission
To consistently provide high quality heaters and anti-reflection technology required for sensing device covers.
This project, utilizing our thin-film technology, was the result of an inquiry in 2018 from Pioneer Corporation's autonomous driving business department regarding our transparent heaters. Now known as Pioneer Smart Sensing Innovations Corporation, Pioneer inquired about the possibility of adding a heater function to the outer cover of 3D-LiDAR (1st Model). Due to issues related to durability, the insertion of one of our transparent heaters into a resin cover was not viable, so the project did not proceed any further. The following year, we were contacted by Techno Associe Co., Ltd., a company that we had done business with before. The request led to a prototype where, by overcoming the previous durability issues experienced with Pioneer, a heater was successfully placed in a glass cover. Mass production began in November 2020. Techno Associe stated that they knew they could always rely on GEOMATEC to provide the solutions they required.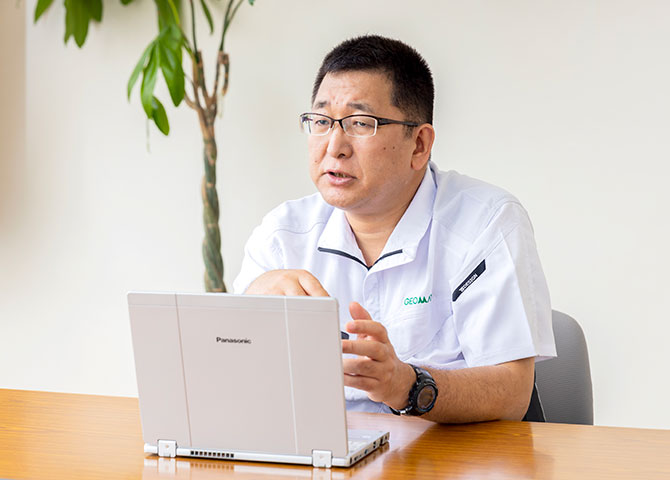 LiDAR stands for "Light Detection And Ranging. In a nutshell, Pioneer's 3D-LiDAR applies a near-infrared beam to the target and the sensor detects the light that is reflected. We therefore combined thin-film technologies to create a film that not only has a heater to prevent frost and snow from accumulating on the cover and water-repelling properties to reduce soiling, but also has an anti-reflection component to increase the permeation of the near-infrared beam and is designed so that the components inside the cover are not visible - this is achieved with a decoration that allows near-infrared rays to pass through but reflects visible light. We create and combine the films with these four characteristics at our own facilities.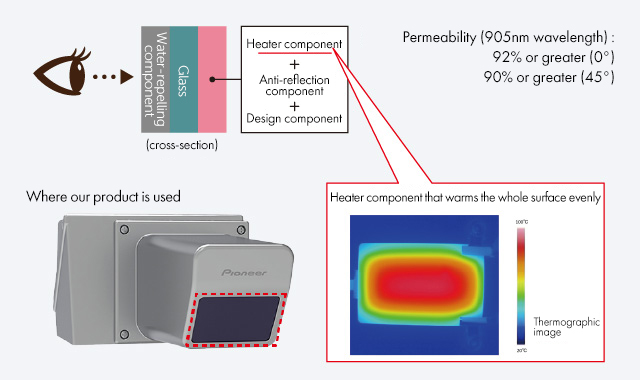 Solution
We won this order by exemplifying our technical expertise.
We believe that the reason we received an order from Techno Associe, despite the initial setback with Pioneer, was because we were able to demonstrate the merits of our transparent heaters. The fact that our transparent heaters are used in the meter panels of aircraft is a huge testament to the quality and capabilities of our technical skills. Our existing range of mass-produced transparent heater products provided us with an established foundation from which to create a prototype according to the client's specifications.
Sensing technology has been adopted in a wide range of fields in recent years, including traffic monitoring, intruder detection in commercial facilities and autonomous driving. As a result of this, we have seen an increase in inquiries about using our thin-film technology in LiDAR and sensor devices, and demand for sensing devices is predicted to grow even further as companies recognize how essential they are in ensuring the safety of large numbers of people. Our aim is to push on with development of our technical expertise so that we can meet demand and strive to make a meaning contribution to society.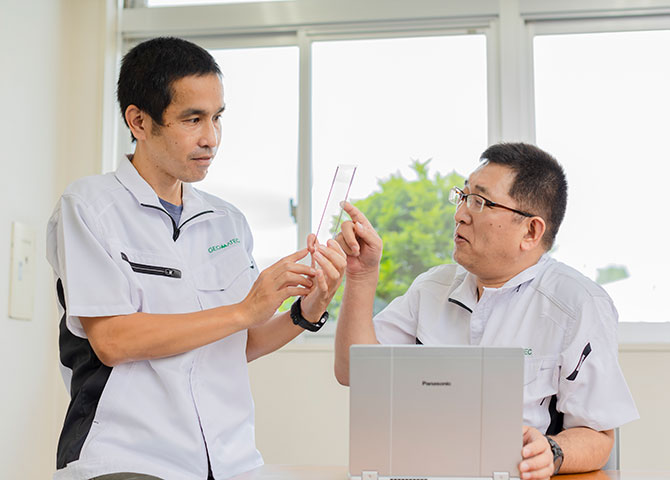 It is a pleasure to have helped clients create products they had envisioned.
Our Kannari Factory's staff of around 300 are constantly refining their production techniques in order to provide products and services that meet the outstanding performance and quality our clients demand. This project was an example of how the baton is passed from the sales department to our factories, and we look forward to working on more company-wide collaborations to provide solutions for clients in future.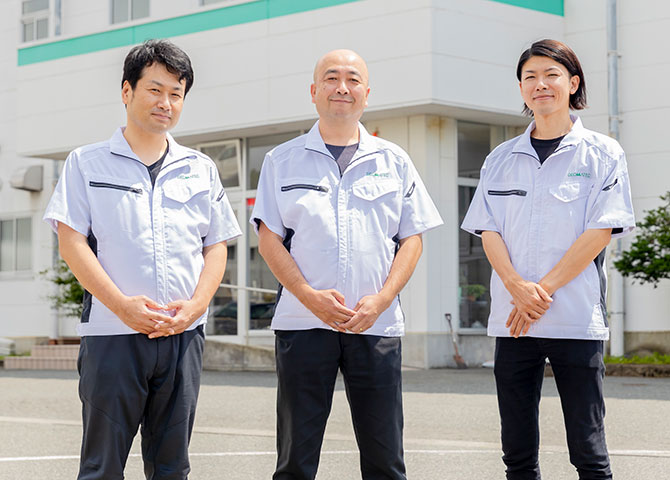 Technology

GEOMATEC's transparent heaters, Anti-Reflective (AR) Coatings, Water Repellent Coatings

We combined thin-film technologies to create a film that will enable the performance of sensors to be easily maintained. In addition to having a heater to prevent frost and snow from accumulating and water-repelling properties to reduce soiling, this film has an anti-reflection component to increase the permeation of the near-infrared beam and is designed to reflect visible light for a more aesthetically pleasing appearance.
---
Inquiries & Requests for Materials
Please feel free to contact us for more details.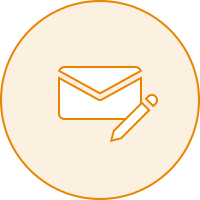 Contact Us