Our Strengths
Inspiring New Ideas with Invisible Thin Films
GEOMATEC - High-Performance Thin Film Technology Company
A leader in vacuum coating technology since 1953

Our high-performance thin-film technologies are demonstrate great potential worldwide.

We have one of the industry's largest production systems in Japan to support customer needs from prototypes to mass production.

We endeavor to create even new coating solutions.
Introduction
Inspiring New Ideas with Invisible Thin Films
Our invisible thin films work at the fine nanoscale and carry a countless number of potential applications that can help achieve our customers' ideas. Since our founding in 1953, we have dedicated ourselves to research into vacuum coating technology and used our high-performance thin film for the betterment of society.
Applications
Geomatec's High-Performance Thin Film is used all over the world
Our high-performance thin-film technology is actively used in a number of industries and applications, including information technology, display devices, and automotive onboard devices. Thanks to its limitless potential, usage continues to expand.
Thin films are essential for smartphones and other touch screen devices

As the technologies that have become Geomatec's calling card, ITO and Transparent Conductive Films are widely used to equip displays with touch screen functions.

Maximum prevention of glare on showroom windows

Like there's no glass there at all, Geomatec has a rich collection of high-performance thin films that suppress glare and reflection, such as the super anti-reflective film, g.moth™.

Water drops that touch the surface are swiftly repelled

Geomatec's high-performance thin-film technology is capable of processing surfaces to make them water and stain repellent, throwing off water droplets as they make contact. The technology is used in surveillance camera cover lenses and more.

Radiant and luxurious new possibilities stimulate the imagination of designers

Our decorative films for luxury products that change in light and will provide designers with new ways to express their individuality.
Our High-Performance Thin Films
Thin-film technology gives new functionality to existing products.

We offer solutions for the ultimate combination from unlimited possibilities
Geomatec's high-performance thin film technology can reflect light, conduct electricity, repel water, and enable a wide range of other functions that would not have been possible in the base material's original state. Since they can be applied in multiple layers and remain so thin they're almost invisible, our films add immense value to customers' products.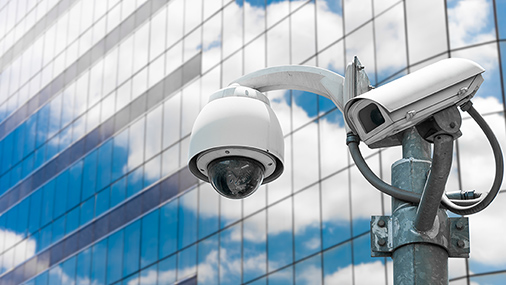 Examples of optimum combinations:

Transparent x heat generating x semi-circular x water repellent = Covers for outdoor surveillance cameras

By coating transparent semicircular resins with ITO and transparent conductive films that conduct electricity, or coatings that repel water and staining substances, we created cover panels equipped with transparent heaters, perfect for use with outdoor surveillance and observation cameras.

By equipping them with transparent heaters, these water repellent and anti-stain films will not only cast off water droplets and stain on contact, they will also prevent clouding, dew concentration, and even frost, ensuring clear broadcast or recording of camera images, whether rain or shine.
Evolution and Diversity of Our Technology
The evolution and diversity of Geomatec's breakthrough technologies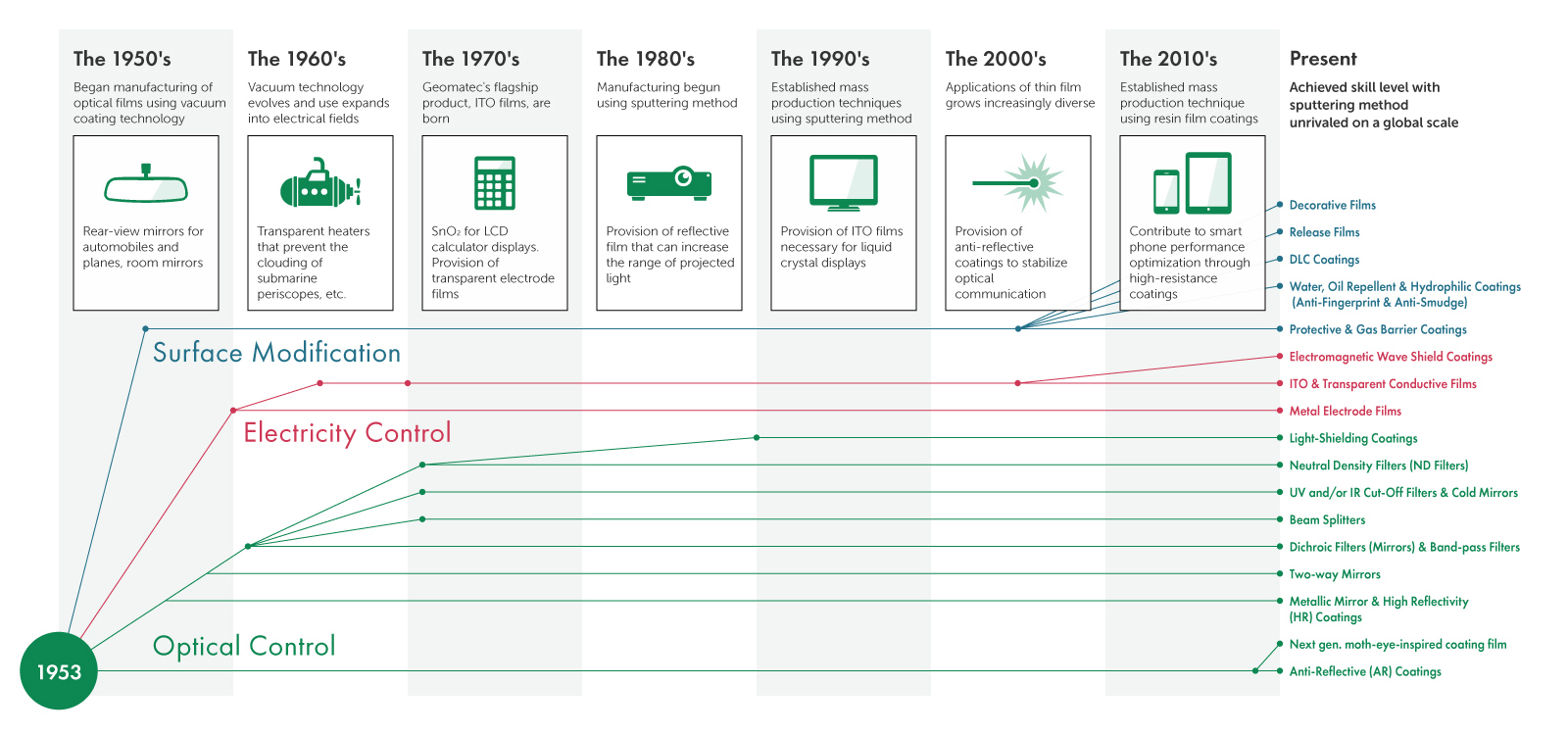 Pinch to zoom
Geomatec specializes in two thin-film technologies
We primarily use sputtering and vacuum coating for thin-film production. In particular, we pride ourselves on our world class skills and know how with the sputtering method.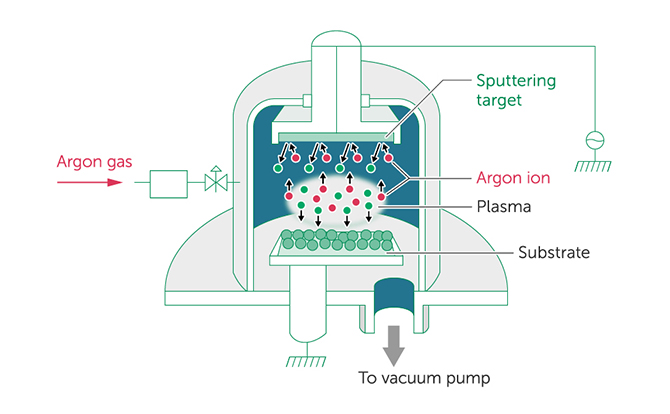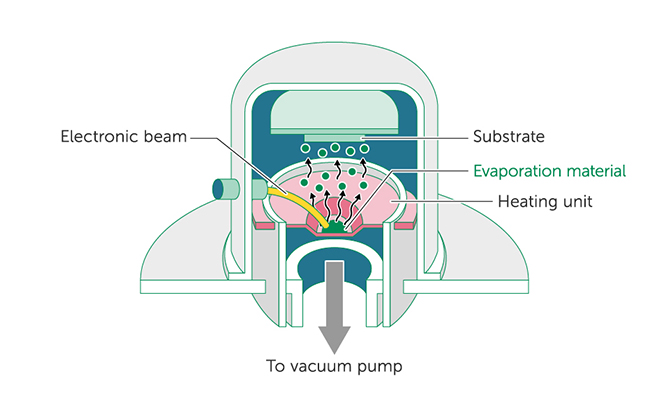 Manufacturing and R&D System
One of the industry's largest manufacturing systems
As a manufacturer specializing in thin-film technology, Geomatec possesses factories and facilities in Japan that are among the industry's largest. Since its founding in 1953, the skills and know how of Geomatec's technicians, built over long years of experience, have been combined with a variety of advanced equipment to handle more than 10,000 projects per year. We provide high-performance and high-quality products to customers around the world.
Production &
Research base

3

Regions

Total floor area (m²)

41,051+

*Production & Research base

Coating equipment

78

Units

Projects

10,000+

Per year
World Class Factories & Facilities

Geomatec's production and R&D facilities in three locations bring together a variety of connections. Each of our locations has roots in the local region and individual character that can be put to use by customers on their prototypes and mass production.

A Wide Variety of Coating Equipment

With 78 diverse units of coating equipment, Geomatec embodies both the history and cutting edge of vacuum coating and thin-film technology. Our technicians have the skill and know how, built over years of experience, to meet your needs.

Equipment for Analysis & Measurement

Helping you achieve advanced technology and stable product quality. Geomatec's capacity for development and quality is supported by the experience, know how, dedication of skilled technicians who make use of a wide range of equipment for analysis and measurement.
Our Team Supporting Geomatec High-Performance Thin Films
Geomatec employees who drive various business operations
Checking the thin film mold for any scratches or irregularities
Operating large 3000Φ, batch-type sputtering equipment
Transferring fine patterns onto a substrate with the mask aligner
Analyzing the composition of thin films that changes depending on coating conditions
Our Services
The four services Geomatec offers
1.

Outsourcing of thin-film manufacturing

Outsourcing of thin-film coating only
Thin-film coating, including substrate material procurement and post coating process

2.

Technology licensing

3.

Technical consulting

4.

Geomatec Products Purchase & Online Store
Depending on customers' needs, Geomatec has a contractual structure that is flexible enough to engage in co-development or handle work in house at customers' factories.
How We Offer
When outsourcing work to Geomatec, the following steps are taken.
1.

Contact us

2.

Discovery & Technical meetings

3.

Estimates

4.

Prototypes & Samples

5.

Thin-film manufacturing (procurement, coating and post process)

6.

Quality Inspection & Shipping Preparation

7.

Delivery
Making Customer's Ideas Real
If you're looking for superior, stable, high-performance thin films, Geomatec is the answer
As long as the possibility remains, we will continue to tackle all challenges
If you have an idea that you had once given up on, please give us a try
Our results and know-how have been responsible for several breakthroughs that continue to contribute value to society
We will search out the option that best meets your needs for performance, quality, and cost, and show you the way to it
Contact Us