A Wide Variety of Coating Equipment
78 units that fulfill the diverse needs
Since its founding in 1953, Geomatec has continued to develop its vacuum coating technology with 78 units of cutting edge thin-film coating equipment that can handle more than 10,000 orders per year. Based on the technology and knowledge we have accumulated over many years of experience, we make use of different varieties of equipment to achieve the results desired by the customer.
Mechanisms of Primary Equipment
Geomatec has several varieties of coating equipment, and different substrate materials, forms and volume are used accordingly. Here we will introduce the five primary methods.
Batch

Inline

Roll to Roll

Inner Cylinder
Batch (e.g. carousel type)
Items small or large, prototypes or mass production. Capability to handle a diverse variety of thin films
Thin-film coating is carried out within tank-shaped equipment, such as rotating drums
Since the conditions of thin-film coating and the shape of the fixed frame (jig) for substrate materials are easily adjusted, they are well-suited to processing of prototypes
We also possess several units of large-batch machines that are capable of being set with multiple substrate materials and are well-suited to mass production
Geomatec's own unique technology is capable of coating unique forms, such as curved surface and domed shapes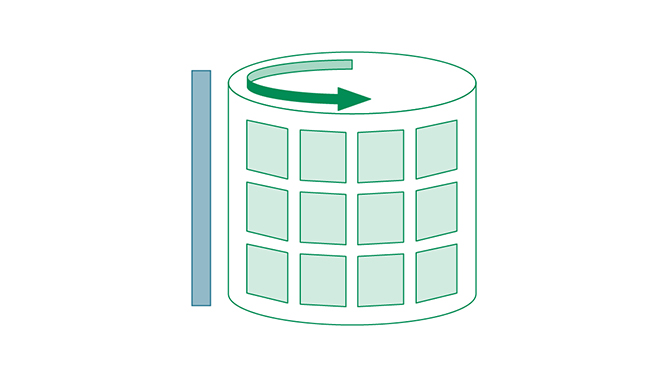 Multiple substrate shapes
Small to large volume
Sputtering
Vacuum coating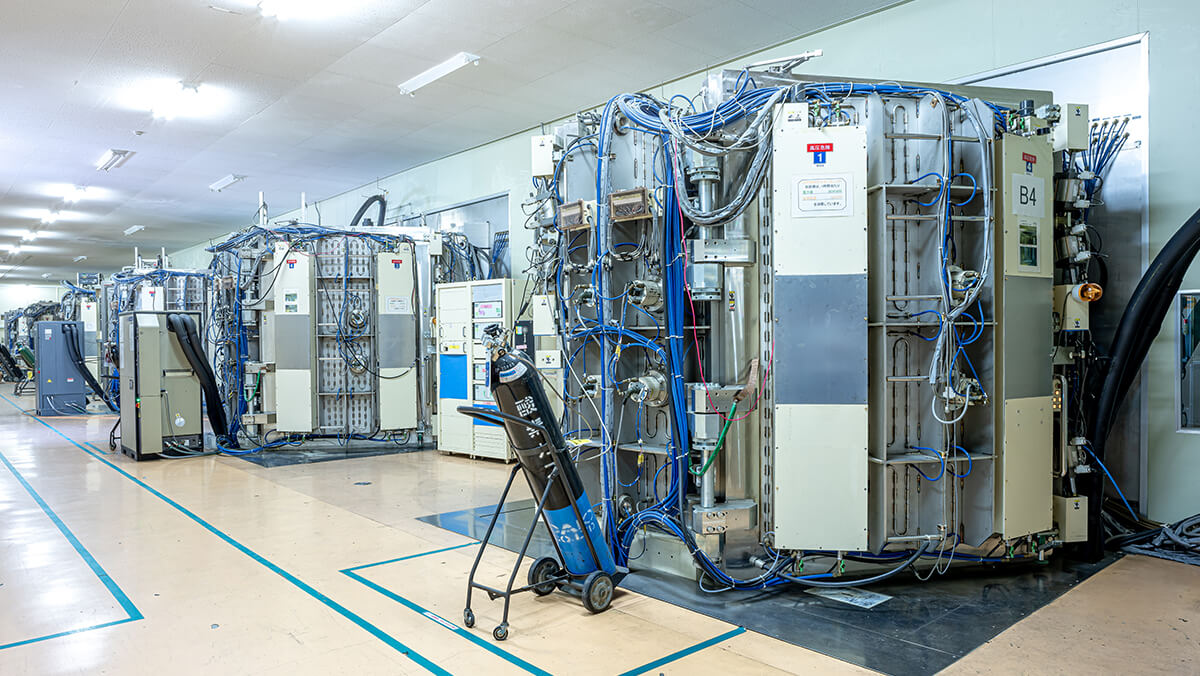 3,000Φ equipment within a clean room

We also possess small format machines suited for small items and prototypes. With so much equipment, new and old, lined up, the room looks like a chamber of a museum
Inline
Higher productivity and can be used to repeatedly coat thin films to a large volume of substrates with firm precision
Thin films are coated to substrate materials by conveyor equipment, enabling a regular flow of continuous thin-film coating
Simple thin-film coating, in single and multiple layers, to plate-shaped substrate materials is optimum for mass production
Our line emphasizes productivity, and the affixing and removal of substrate materials to and from the fixed frame (jig) is made more automated with high-precision robot arms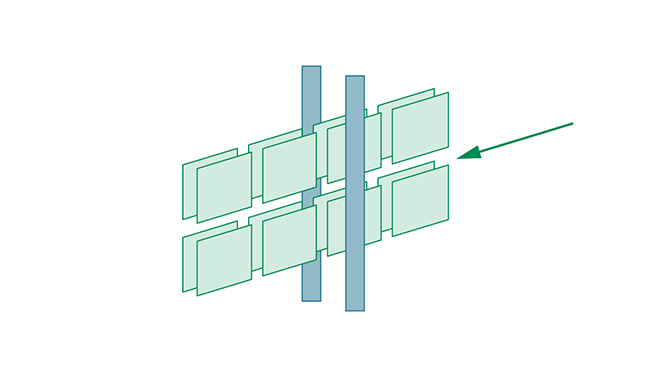 Plate and sheet shapes
Large volume
Sputtering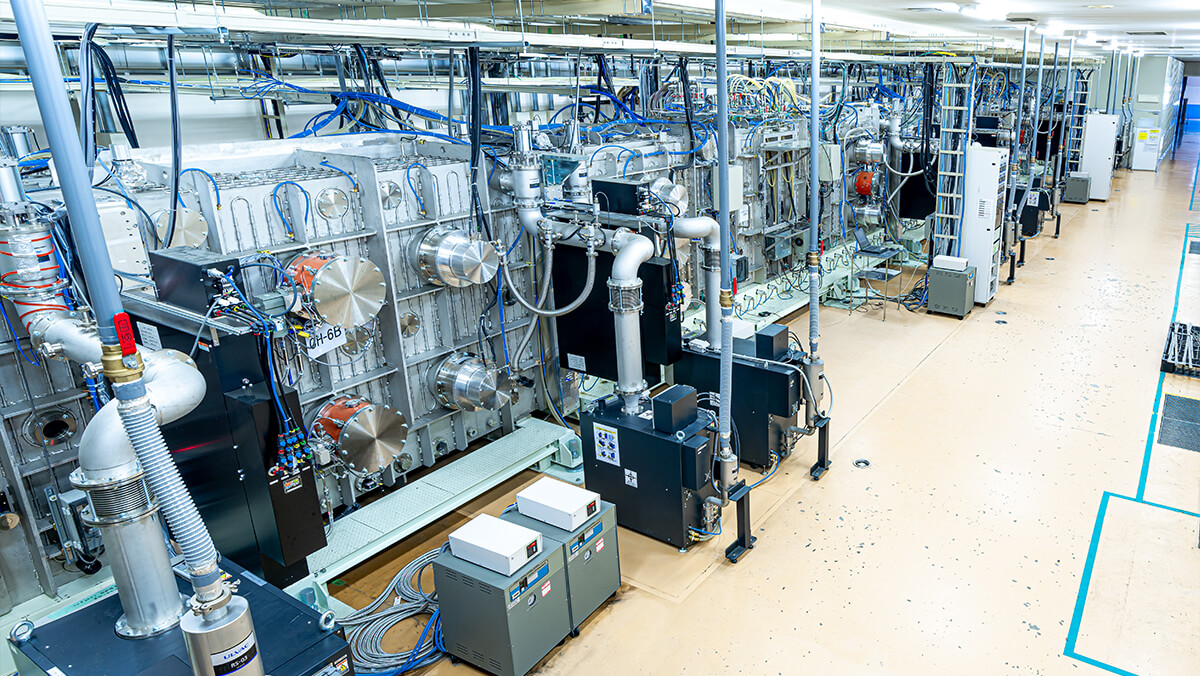 The inline method involves mechanized automation of the setting of substrates, creation of vacuums within a chamber, thin-film coating, removal of substrates and more

High precision robot arms repeatedly set the delicate substrate materials to the jig and convey them to the coating equipment.
Roll to Roll
Flexible & Thin films can be mass produced
Thin films can be coated to materials wrapped into thin rolls, making them well-suited to mass production of resin films, metal foil, and more
We possess units suited for mass production and coating of large surface areas up to 1,300 mm wide, as well as 700 mm units suitable for prototypes and small surface areas
By utilizing cutting edge equipment and technology, we can handle films as thin as 4.5 μm
When working with film of 50 μm thickness, the machines can cover lengths of 7,000 m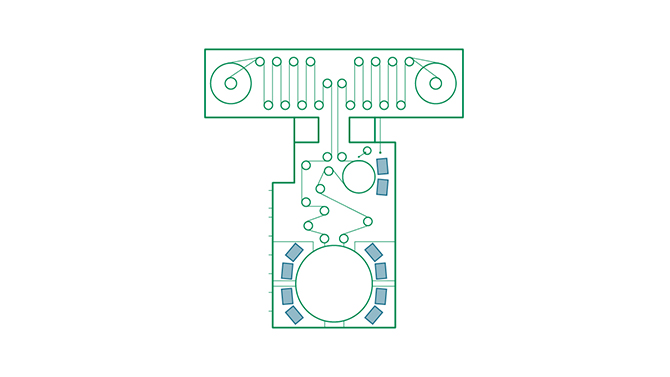 Roll shapes
Small to large volume
Sputtering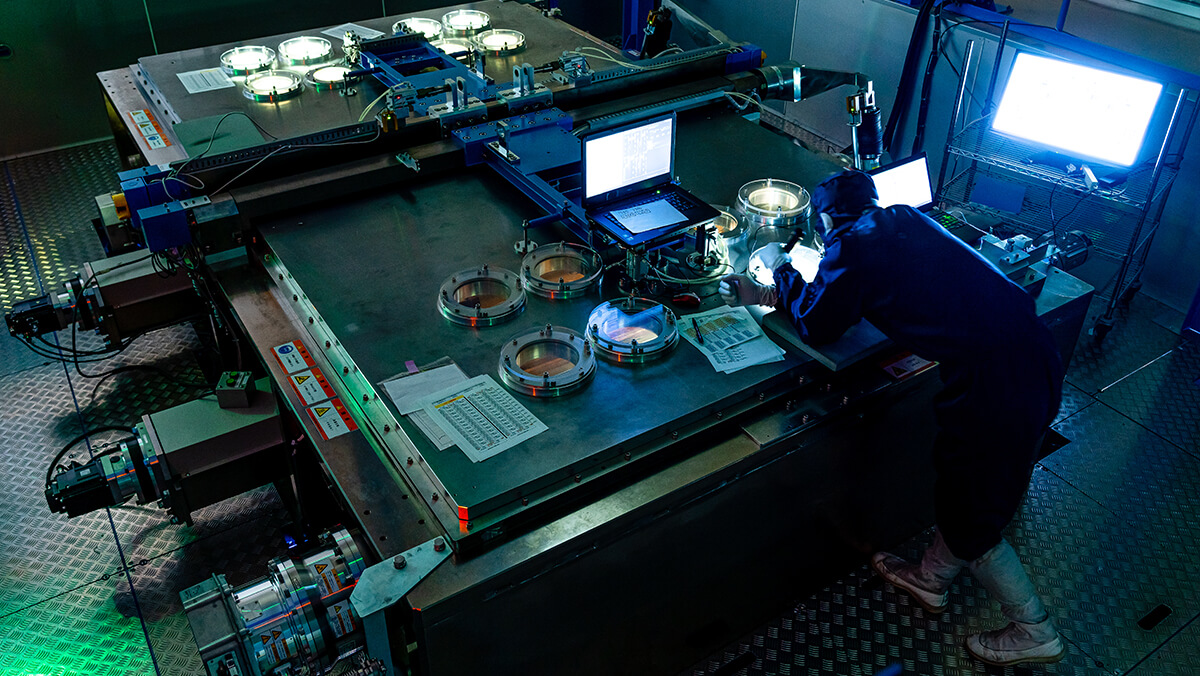 The equipment for 1,300 mm wide films has a depth of over 20 meters and cannot be captured in a single photo (This photo is a near view of the first floor operation panel)

Staff inspecting the coated thin film
Inner Cylinder
Capable of coating thin films on the inside of 1,500 mm cylinders, something that is rare on a global scale
Technology for coating thin films within cylinders
Can handle sizes from inner diameters of φ4 mm to outer diameters of 160 mm and lengths of 1,500 mm
Thin films with barrier filters and other functions can be coated to the interior of resin, glass, ceramic, and metal cylinders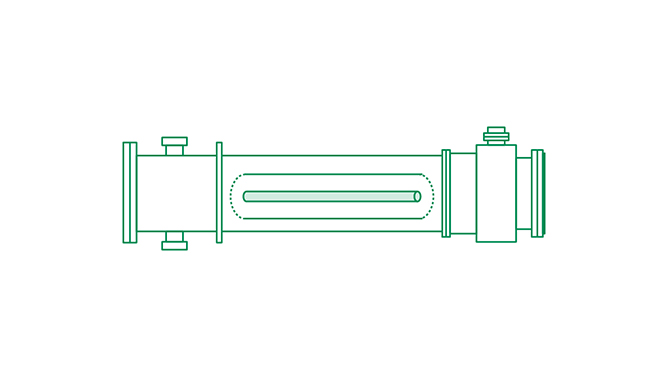 Cylinder (Inner & Outer)
Small to large volume
Sputtering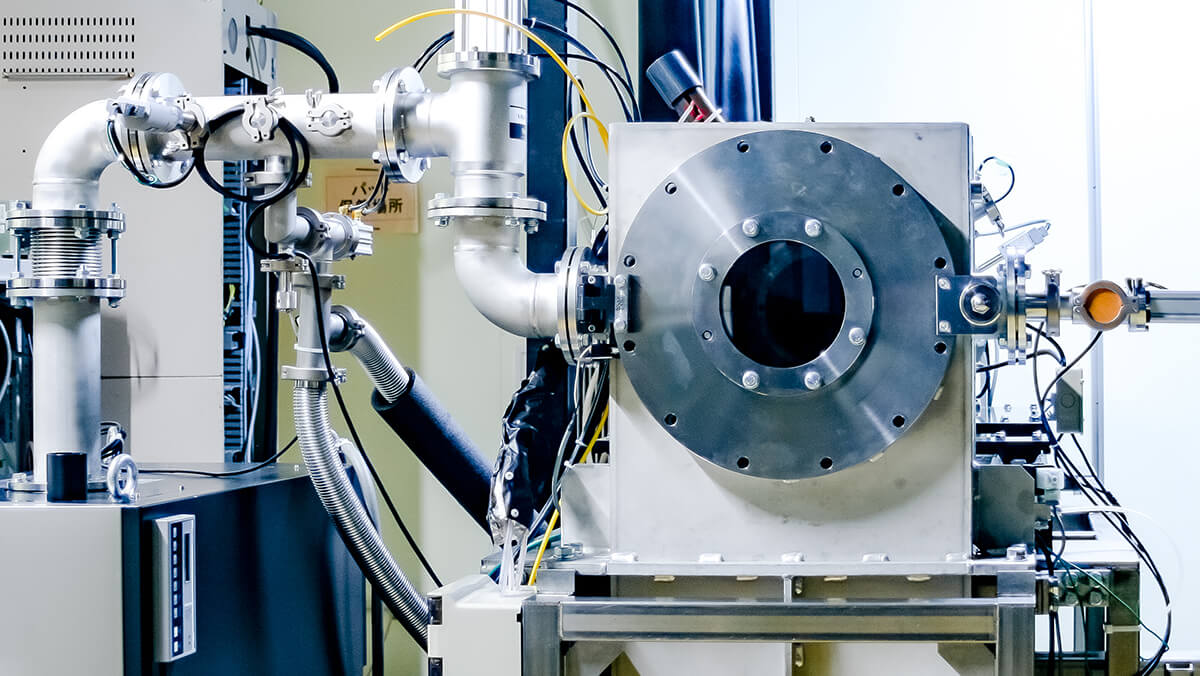 Inquiries & Requests for Materials
To all who wish to manufacture high-quality, high-performance thin films
Feel free to contact us regarding:
Technical licensing and technical consulting for thin-film technology
Outsourcing thin-film coating only
Outsourcing thin-film coating, including pre and post processes
Purchase of Geomatec products
Information on other Geomatec thin-film technologies
Contact Us