Our High-Performance Thin Films
Inspiring New Ideas with Invisible Thin Films
High-performance thin films work at the nanoscale and carry the potential for countless applications.

5 Points
Point

1
We offer function at the nanoscale, a plane so thin and sensitive, it is almost invisible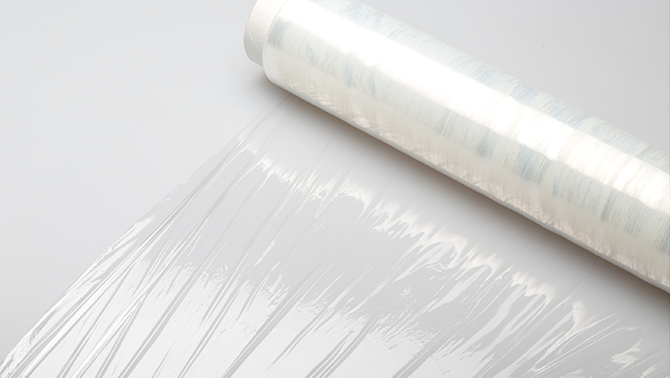 Our thin films are 1/1000th the thickness of kitchen plastic wrap
In general, films that are least 1/2 (5μm) the thickness of plastic wrap are considered thin films. The majority of Geomatec's thin films, however, are measured using nanometers (nm), a unit of measurement even smaller than the micrometer (μm). We have readily available films that are as thin as 10 nm - 1000 nm (1 (μm) in size. Depending on the needs and wishes of the customer, the thickness of the films we apply can be precisely controlled.
Point

2
A diverse selection of functions that can provide added value to products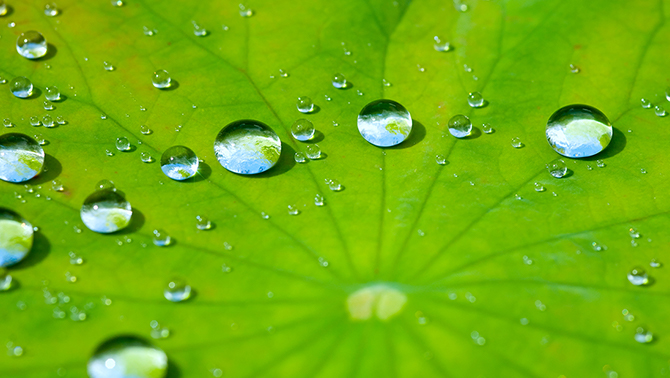 By adding functionality that did not exist in the original base material, you can enhance your product's performance
Thin films can be used to reflect light, conduct electricity, repel water, or add many other functions not found in the original base material. They are utilized globally to raise the performance and convenience of products in every industry and field.
Search products & solutions by function
Point

3
Thin films can be applied in multiple layers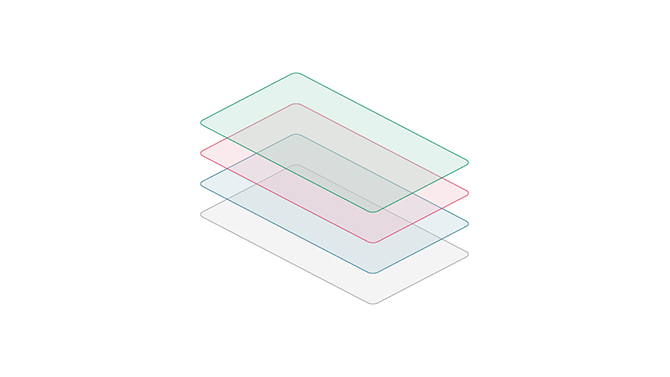 By applying thin film in multiple layers, it is possible to add and combine multiple functions
At Geomatec, we will work with the customer's needs and objectives, such as controlling the flow of electricity while repelling water, to provide the best possible combination of thin films. No matter how complex the combination, the results will be stored as computer data, ensuring stable performance and high quality that is reproducible.
While not every project will require multiple layers of film, a 10 nm film that is applied 100 times will still be only 1/10th the thickness of kitchen plastic wrap.
Point

4
Thin films can be made in multiple forms with a variety of base materials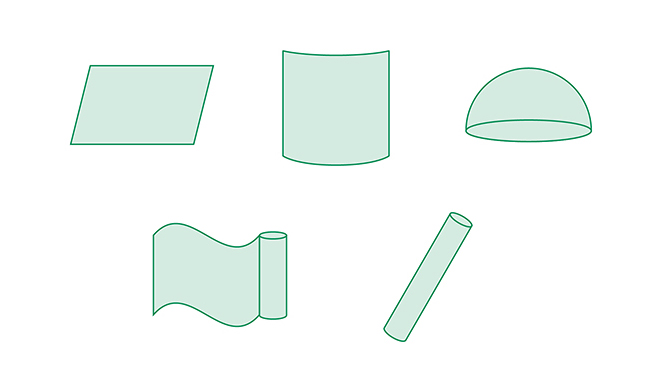 If needed, we will even create special machinery to accomplish your needs
Our thin films can be coated on almost any material, including glass, resin, metal, and paper
We also have a record of creating films in a variety of unique shapes, including flat plates but also curved slopes, film rolls, dome shapes, and cylindrical interiors/exteriors
With Geomatec, there is a good chance that we can meet your special needs for shape and material, so please feel free to ask
Point

5
Our mastery of the technology of thin film has enabled vacuum control of their state and characteristics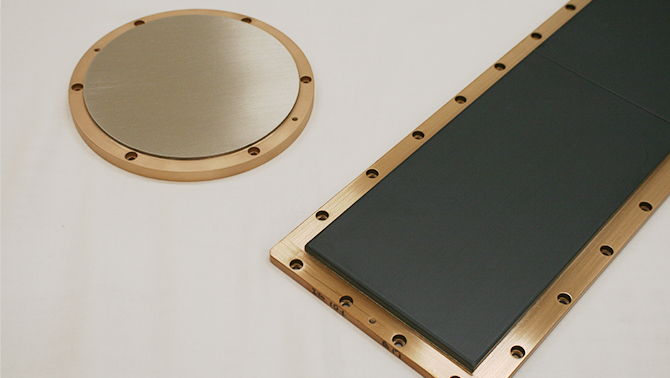 The essence of our long years of experience developing vacuum coating technology is at your fingertips
By offering nanoscale control of thin film within a vacuum state, we have created thin films with a variety of properties
We have over 200 varieties of thin-film targets in stock, enabling many unique functions
By researching the technology of vacuum coating over several years, we have developed thin films that can meet the emerging needs of each coming generation
Geomatec's Core Technology
A leader in vacuum coating technology
1.

In particular, we hold world class expertise, know how, and skill in the sputtering method, which has grown in importance with advances in display and touch screen equipment

2.

Since our founding in 1953, we have also continually increased our expertise, know how, and skill in the vacuum deposition method (electron beam deposition method) which has been used to manufacture camera parts and automobile mirrors
Depending on your needs, we also employ the ion plating method and chemical vapor deposition (CVD)
Our Services
The four services Geomatec offers
1.

Technical consulting

2.

Technology licensing

3.

Outsourcing of thin-film production

Outsourcing of thin-film coating only
Thin-film coating, including pre and post processes (substrate procurement, processing, assembly)

4.

Sale of Geomatec products

&

Online store
Depending on customers' needs, Geomatec has a contractual structure that is flexible enough to engage in co-development or handle work in house at our factories.
Making Customer's Ideas Real
If you're looking for superior, stable, high-performance thin films, Geomatec is the answer
As long as the possibility remains, we will continue to tackle all challenges
If you have an idea that you had once given up on, please give us a try
Our results and know-how have been responsible for several breakthroughs that continue to contribute value to society
We will search out the option that best meets your needs for performance, quality, and cost, and show you the way to it
Contact Us