CUSTOMER REPORT 03
Transparent conductive film
for solid-state dye-sensitized solar cells
The future of sustainable energy: the next generation of solar cells
Ricoh Company, Ltd.
Issue and background
RICOH has set its sights on a charging-free future, working to develop a cell that can be powered by indoor light and does not need to be replaced.
Solution method
Supply a transparent conductive film with excellent smoothness and heat resistance—qualities that are essential for high-output solid-state dye-sensitized solar cells.
Voice
We're impressed by GEOMATEC's high level of technical skill—even in the face of complex orders, their response is fast and precise.
We work in the Energy Harvesting (EH) Business Center in the RICOH Futures BU. This center aims to create a charging-free world, working on developing the next generation of solar cells, including solid-state dye-sensitized solar cells (DSSCs), organic photovoltaics (OPVs) and perovskite solar cells (PSCs, developed jointly with JAXA). This team has been working on solar cell development since long before the change in RICOH's framework, and we've worked with GEOMATEC for over 10 years. This development project came about because the organic photoconductor (OPC) technology that was already used in our photocopiers had an extremely similar structure to solar cells and we had been developing those OPC parts for a long time.
In May 2021, with the help of GEOMATEC, we released the RICOH EH DSSC Series, which has been improved by approximately 20% in power generation from the previous product. From September onward, we have expanded our range to include environment sensors and device products with the new DSSC, which have been used by many different customers. GEOMATEC created the transparent conductive film, a critical component of the glass substrates in the DSSCs.
For our OPV, which is currently in the prototype stage, GEOMATEC has provided invaluable help, starting with consultations about the material configuration. We made two or three prototypes in six months, and what they've given us is now quite close to a finished product. We're impressed by GEOMATEC's high level of technical skill—they work with urgency and give us exactly what we're looking for.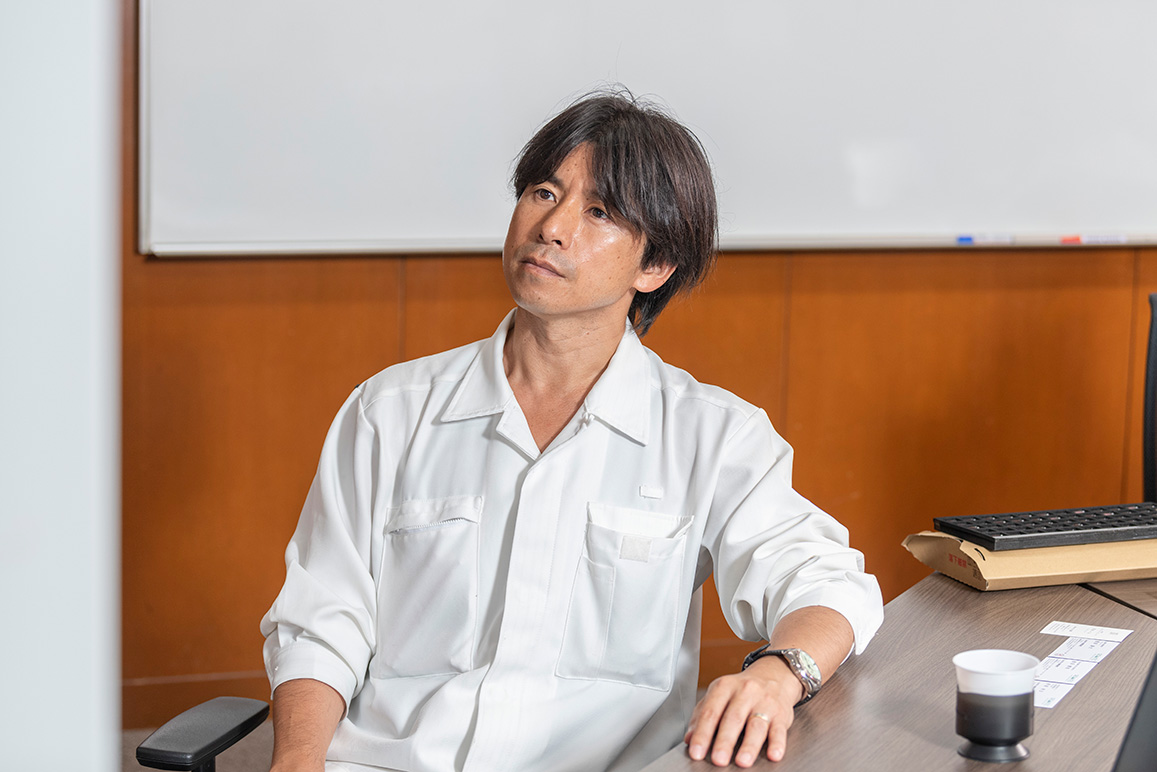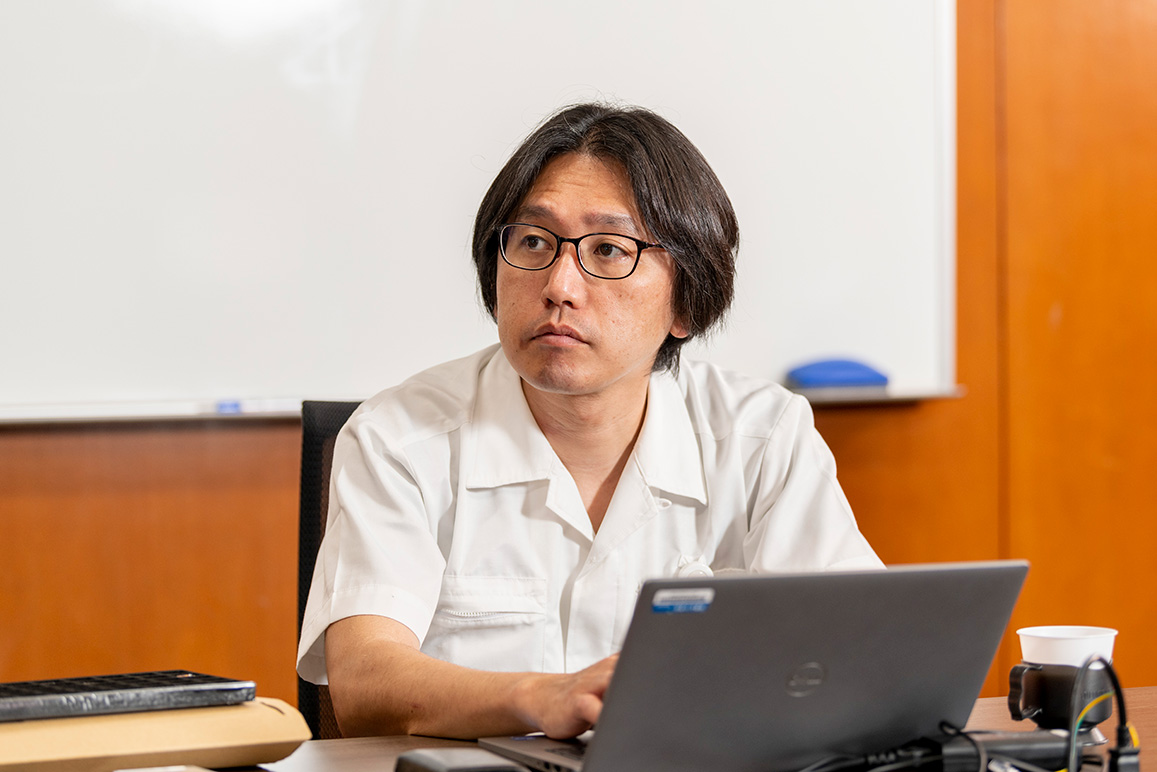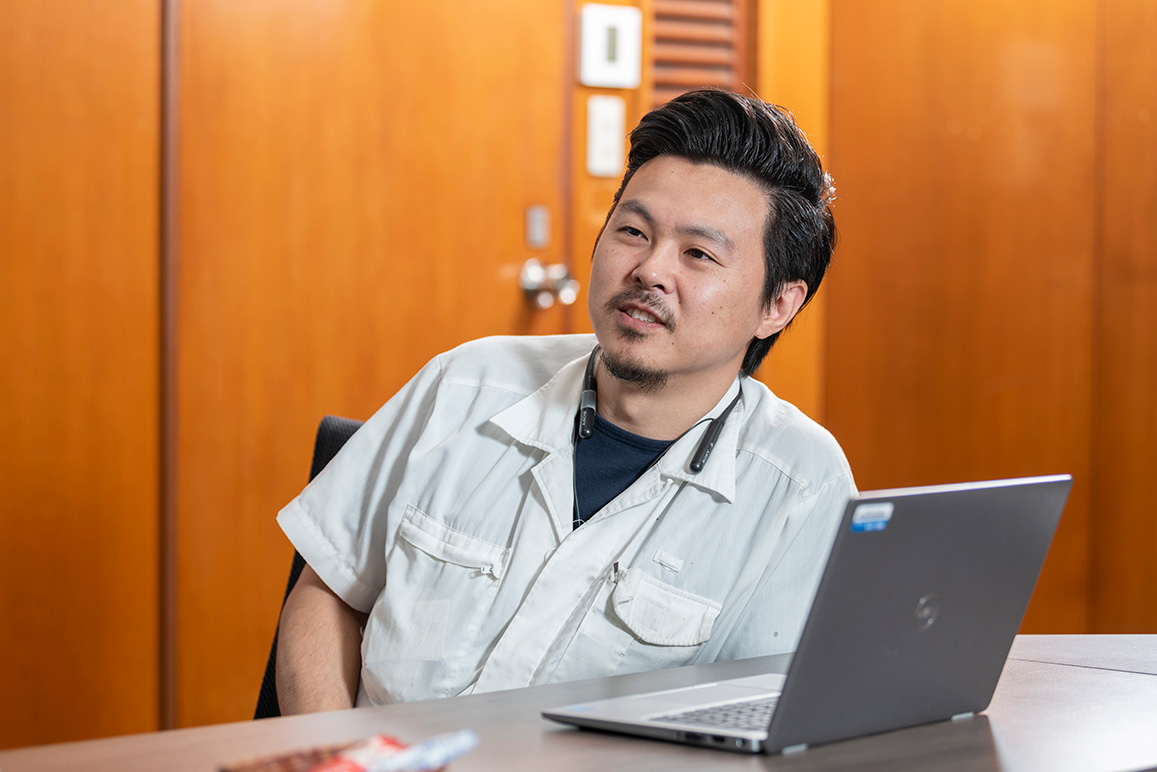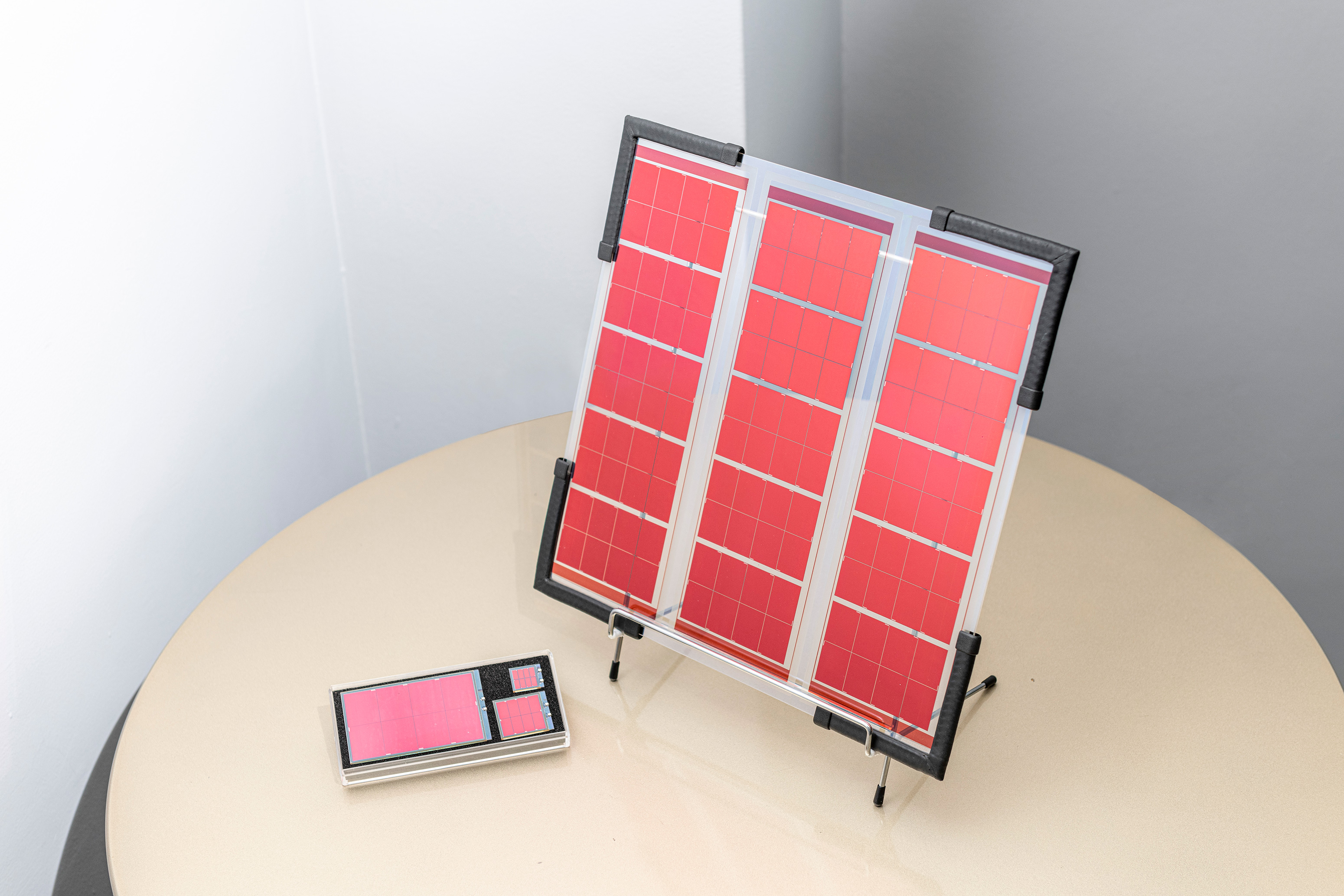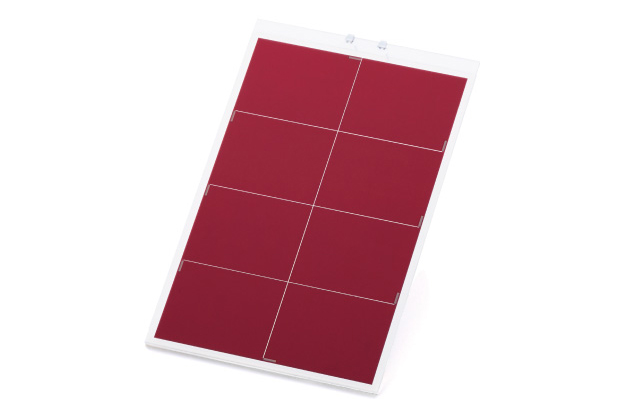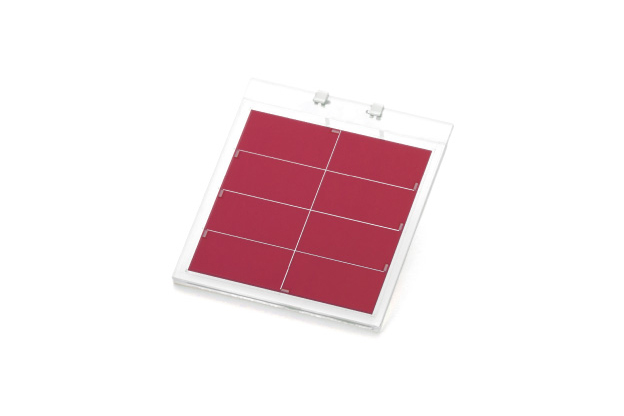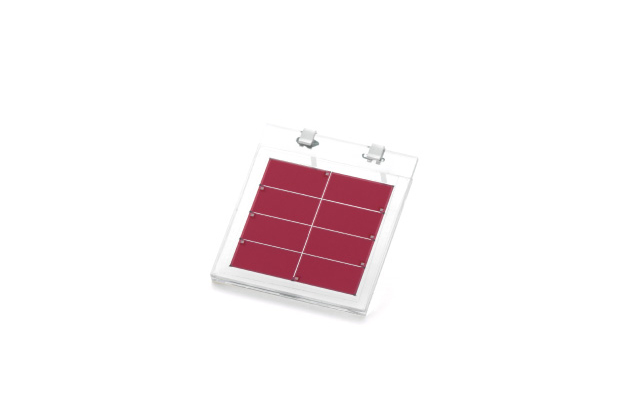 Technology
GEOMATEC's transparent conductive film
A world-leading accomplishment created with extensive knowledge of transparent conductive film and ITO film, using spattering forming technology.
Provides the perfect balance of properties customers are looking for, including transparency, electric resistance, flatness, durability and bendability.
We resolutely pursue the innovations that are needed for technical development, proposing customizations and even developing proprietary thin film materials and thin film coating equipment.
Structure and principle of RICOH's solid-state dye-sensitized solar cells (DSSC)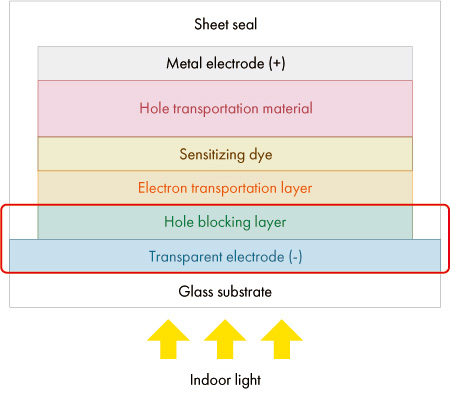 1.

The transparent conductive substrate (cathode) receives light.

2.

Sensitized dye absorbs the light and excites electrons.

3.

The excited electrons are injected into the electron transportation layer.

4.

Once injected, the electrons flow through the hole blocking layer to the transparent conductive substrate (cathode).

5.

After being injected into the cathode, the electrons travel through an external circuit to a metal electrode (anode).

6.

After being injected into the anode, the electrons reach the dye via the hole transportation material.
Light is converted into electrical energy through this circuitry 1-6.
GEOMATEC's thin films are used for the hole blocking layer and transparent electrode.
Solution
Working to complete a fully solid-state DSSC
The hole transportation material of a DSSC generally consists of a liquid, but the EH Business Center dislikes the way that liquid is dispersed through the solid materials and has continued looking for a way to create a fully solid-state DSSC. "In order to provide the necessary properties in a solid-state DSSC, a different material is required from that used in a liquid-state DSSC, so we needed to look for and evaluate materials from a wide range of perspectives," explains a representative from the EH Business Center. "We realized that of all the materials we had been considering, the transparent conductive film proposed by GEOMATEC was the best suited to a solid-state DSSC. GEOMATEC was extremely helpful in solving the issue of finding the right material."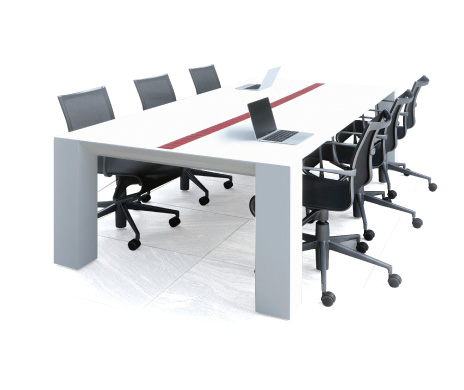 Designed to charge from indoor light instead of sunlight
As the EH Business Center's deliberations about the solid-state DSSC proceeded, it became clear that unlike conventional DSSCs, this DSSC was able to achieve a high output from lower light than sunlight, like indoor light. The transparent electrode the team decided on after a series of trials needed to withstand temperatures of almost 500°C during firing, and the surface needed to be smooth. "GEOMATEC's transparent conductive film has excellent heat resistance and its surface is extremely flat and has a high level of permeability, which made it highly effective as a substrate in the solid-state DSSC we're developing," said a representative from the EH Business Center.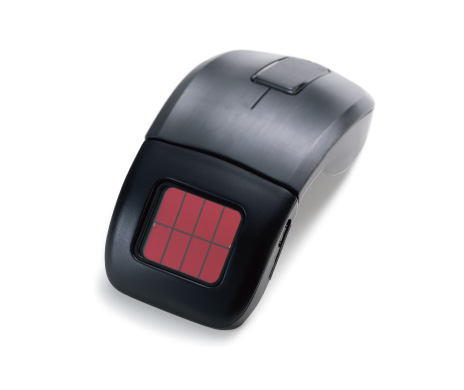 The potential of solid-state DSSCs
Based on the unique properties of solid-state DSSCs—the color can be changed or they can be made transparent—the EH Business Center is considering using them to develop technology such as auxiliary power supplies for smartphones in the future. "We deal with a number of manufacturers, but GEOMATEC is the only manufacturer we know that can take detailed specifications and create something that's exactly what we're looking for," said a representative. "We look forward to working with GEOMATEC again in future."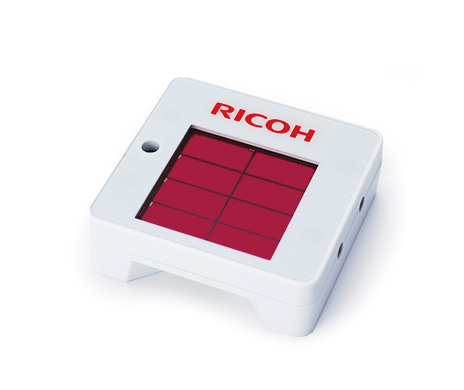 Mission
A seamless process from prototype to production thanks to the trust we have built with our customers.
The release of the solid-state DSSC was an immensely proud moment for us, as we reflected on the satisfaction of one of our customers using our transparent conductive film in a product that they have released worldwide. When we heard about the release of a computer mouse with these DSSCs, we eagerly acquired some. Our relationship with RICOH goes back many years, and we believe that RICOH's trust in our technology is the reason why our communication was so smooth especially during complex periods such as the prototype stage. The sales side and the technology side have different perspectives, but one thing they have in common is the care taken when interacting with customers. At GEOMATEC, we always make sure we understand exactly what the customer's needs are and move quickly to come up with the ideal solution. We pride ourselves on our best business practices that include being up-front with our customers and always putting the customer's best interests first. This commitment is one that we will continue to hold firm to.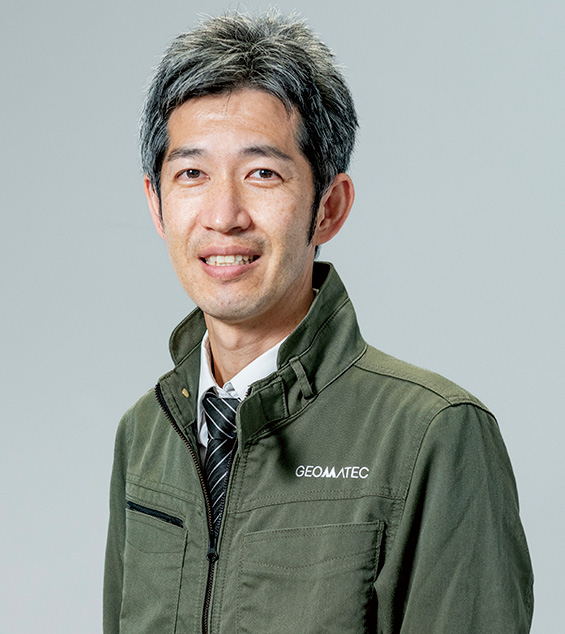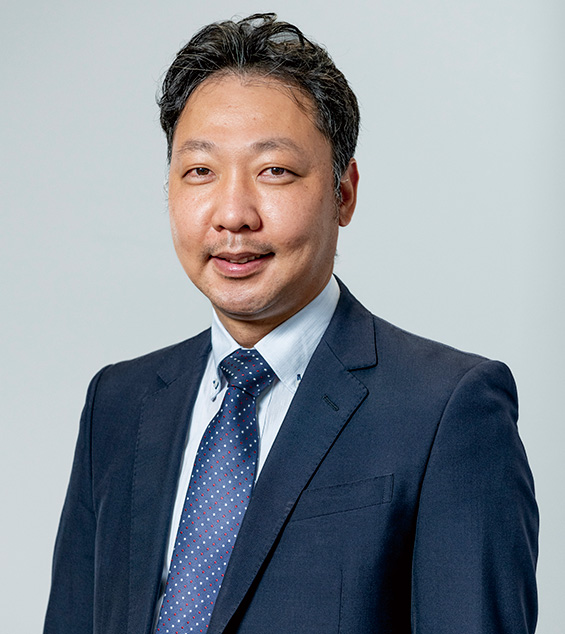 Through our research and development of thin film materials and thin film forming technologies that bring new value to society, we help our customers to bring future products to life.
The deciding factors in the functions of thin film are the properties of the materials and the technologies and know-how behind them.
Since we were established in 1953, we have continuously adapted to the fast moving thin film industry by researching and developing thin film materials and elemental technologies at our R&D center which allows us to meet a diverse range of coating needs.
Utilizing a research and development framework that includes business partnerships and collaborations with universities and other institutes, we help our customers bring future products to life by creating products and services and technologies with a high degree of added functionality to push forward the development of technology and society.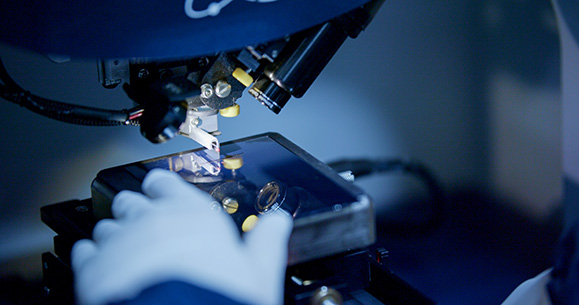 Customer profile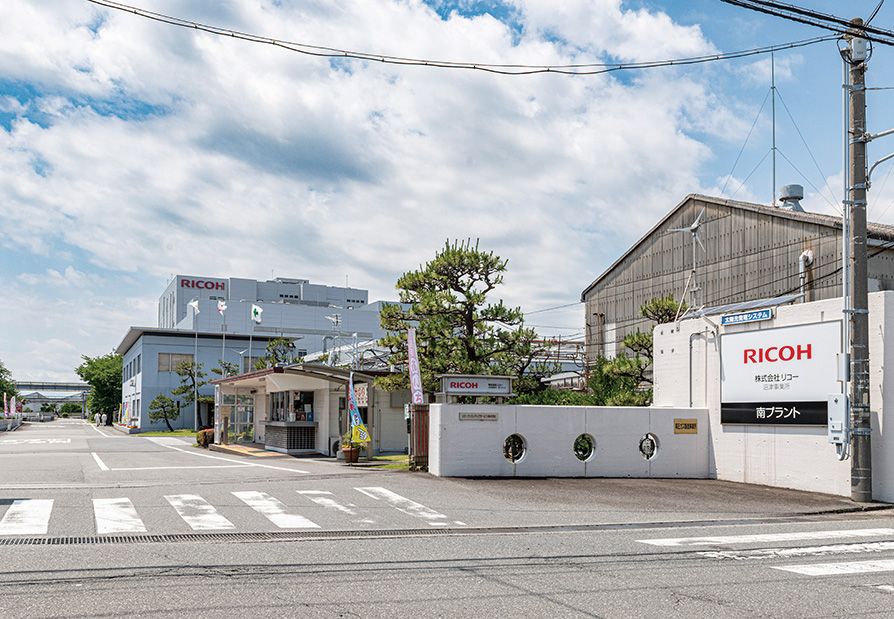 Ricoh Company, Ltd.
Contributing to achieving the SDGs is always close to mind as Ricoh Company, Ltd. goes about its business activities. In April 2021, the company adopted an in-house company system, with five business units for each business. The team that works on developments such as DSSCs, OPVs and PSCs currently being developed jointly with JAXA is called the RICOH Futures BU. This business unit works to solve social issues through work such as the next generation of solar cells, monitoring of social infrastructure and the sale of reference materials for genetic screening.
Location
Head Office : 3-6, Nakamagome 1-chome, Ohta-ku, Tokyo 143-8555, Japan
Numazu Southern Plant : 16-1 Honda-machi, Numazu, Shizuoka 410-8505, Japan
https://www.ricoh.com/
---
Inquiries & Requests for Materials
Please feel free to contact us for more details.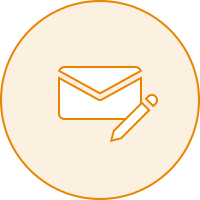 Contact Us