GEOMATEC

- High-Performance Thin-Film Technology Company

Geomatec is a manufacturer specializing in thin-film technology. It is headquartered in Yokohama, one of Japan' s most prominent international port cities. Since the company' s founding in 1953, we have consistently refined our thin-film technology, enabling breakthroughs for companies in a wide variety of industries and fields across the globe.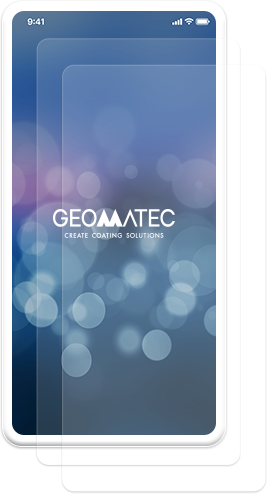 Products & Solutions

Control of multi-layered films.
New levels of functions.

Geomatec' s high-performance thin film provides our customers' products with coatings so thin, there are almost invisible. Using this membrane-like coating, products can be fit with a number of functions, such as anti-reflective, water-repellent, or anti-static properties. The film can also be applied in multiple layers (in some cases as many as 100 or more).
Applications

Our thin-film technology can expand in an unlimited range of applications

In modern society, thin-film technology has become almost indispensable and is used in many of the devices that populate your daily life. Uses for this technology continue to grow, and Geomatec knows just how to employ this power to bring your ideas to life.
Technology

The history and forefront of thin-film technology at your fingertips

Geomatec was founded in 1953 and since then, we have been a leader in thin-film technology, sharing our wealth of knowledge with subsequent generations of technicians. Our factories and facilities are among one of industry's largest and are capable of handling every step of the process, from R&D to mass production. Harnessing the power of thin-film technology, we continually produce the breakthroughs that help make customers' ideas a reality.
Who We Are

GEOMATEC - High-Performance Thin-Film Technology Company

Whether you' re looking for technical consulting, technical licensing, prototypes or mass production, in the field of high-performance thin film, Geomatec is the answer.
Employees

389

March 31, 2023

FY2022 net sales

5.812

billion yen

Number of projects

10,000+

per year